Fred Woodard: Biography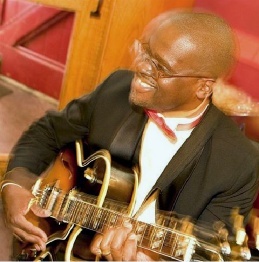 Hailed as "....an innovative guitarist who executes in a clear, lyrical way..." by Cadence magazine, Woodard leads the Boston-based Fred Woodard Trio. Woodard describes the band's music as, "...straight-ahead jazz spiced with sounds from other styles. These sounds are then adapted to a jazz format."
Woodard was born on March 2, 1961 in Kansas City, MO and grew up in Iowa City, IA. After high school he attended Berklee College of Music in Boston, MA and received a degree in Jazz Composition and Arranging in 1983. He has also studied Jazz improvisation with Jerry Bergonzi, Charlie Banacos and Ritchie Hart.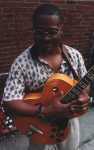 After graduation from Berklee Woodard performed with a variety of jazz, R&B and reggae bands in the Boston area and performed locally and internationally with classic R&B artists such as Sam & Dave, William Bell, The Drifters and the Marveletts.
Woodard has been leading his own jazz groups since 1988. His current group, "The Fred Woodard Trio"(consisting of guitar, bass and drums) has performed extensively together making appearances at events such as The Discover Jazz Festival, The Providence Jazz and Blues Festival, The Kingfield Jazz and Blues Festival and The Iowa City Jazz Festival.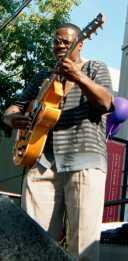 Woodard established his own recording label, Ujam Records, 1997 and released his first CD, "Arrival" in 1999 and his most recent CD "1715" in 2002. Both of these CDs received positive reviews in several publications such as The Boston Globe, The Providence Phoenix, The Rochester City-News and The Iowa City Press Citizen.
In 2002, Woodard was named "Best New Jazz Artist of the Year" by GBOS Magazine. Woodard was also listed in the 2003 edition of Marquis Who's who in America and in the 2004 edition of Marquis Who's Who in the World. In 2006, The Fred Woodard Trio was named "Best Band Jazz" at the 1st annual New England Urban Music Awards.
Woodard shares the love of his craft as a teacher at the Roland Hayes School of Music in Roxbury, MA. He says, "It gives me the opportunity to re-think my approach to my instrument. I also get a chance to reach people who wouldn't otherwise get a chance to learn how to play an instrument."