Fred Woodard: Interview
The Jazz Traveler
by Elisha Pappacoda, The Brooklyn Skyline, July 2, 2002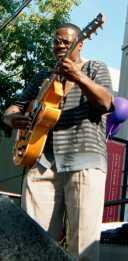 Hip hop culture has become a ubiquitous entity - from urban fashion beats blaring from loaded suburban SUVs. Young rap aficionados may be able to predict the next big trend in black music, but do they know anything about the past?
"Jazz is just another branch on the African American musical tree," said indie Jazz guitarist Fred Woodard.
The Berklee trained Boston-based musician will bring his smooth tempos to Brooklyn next month, performing at the Youth Collective Jazz Series Concert in Dr. Ronald McNair Park in Crown Heights.
In the 1930s, New York City, and Harlem in particular was the hub of the rise of modern jazz -- the advent of hip hop began on these same streets in the min-70s.
"Jazz is in the same family as hip hop," Woodard said. "African-American music dates back to when Africans were first brought over to America, so its in the same family as spiritual blues, jazz, and later the R&B, soul music, funk and hip hop."
Jazz lovers and teens previously unexposed to this musical art form will both enjoy the concert in the park, according to Woodard.
"Kids should be able to find familiar elements in my music that they can relate to, plus things they have never heard before," he said. "I always try to include in my music rhythmic melodic elements that the common person can relate to, especially young folks."
Woodard has been playing professionally since 1983 and in 1988 formed his own band, the Fred Woodard Trio. In 1997, Woodard created his own record label, Ujam Records, which is named for a Ujamma, a principle of Kwanzaa.
"I'm doing what a lot of artists are doing now, they are promoting themselves in all aspects of recording and promotion," said Woodard. "Everything is being handled by the artists themselves. I don't have a big company behind me."
His recently released his third album, titled "1715," after the street address of a house where he used to live.
The artist is excited to be performing in New York City, where modern jazz flourished.
"New York and Brooklyn areas are known worldwide as the capital of jazz music so I wanted to participate in any events that are in the area," Woodard said. "This is the first time performing in the Brookline area with my own group -- I'll make good use of the opportunity."